FREE REPORT INCLUDED:
3 Steps to get
More AMC Orders

SECURE & CONFIDENTIAL
WE GUARANTEE YOUR CONFIDENTIALITY.
We hate spam just as much as you do. If not more!

No More Middlemen & AMC Directory
Get both Directories and we will even throw in a copy of the Maximizing AMC Orders and Income eBook for free! Significantly Discounted and on SALE right now. Original Cost for all 3 = $184.95 Price: $144.95 - Electronic Versions Only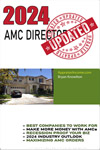 Appraisal Management Company Directory
and additional chapters on recession proofing your appraisal business, getting more estate appraisal requests and search engine marketing. First 37 on the list send the most work, First 10 on the list are currently my BEST clients.

Non-Lender Marketing Guide & Spreadsheets
Appraiser Marketing Guide and List of 11,000+ Direct Lenders, Credit Unions and Bail Bond Companies. Get off the AMC roller coaster ride for good!