Most Working RE Readers have heard about the tragic movie theater shooting in Aurora, Colorado. Among those killed in the shooting was Gordon Cowden, a real estate appraiser.
Gordon attended the movie with two of his teenage children, 17-year-old Brooke and 16-year-old Cierra, both of whom managed to avoid injury. Gordon was the oldest of the victims, at 51 years of age, and worked as a real estate appraiser.
Gordon will be remembered as a man with a great sense of humor, a man of strong faith and a father who absolutely adored his children.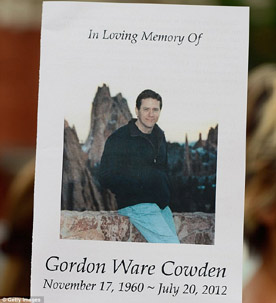 A Message from the Cowden Family:
As long as I can remember, my father was an appraiser, my siblings responded to the question the same, and my mother told me that he was an appraiser all of his adult life. She told me that he started as an appraiser's assistant, and thus it was his work since graduating college. We predict the amount of time to be at least twenty five years.
While we have faith in the future and know we will make things work, our current concerns are immediate expenses and those in the near future, such as college, all without the support of our Dad. We would greatly appreciate the support, and we simply cannot thank you enough for reaching out to us in the midst of this tragedy. -The Cowden Family
If you'd like to donate to the Gordon Cowden Children's Fund, you may do so here: www.gordoncowdenchildrensfund.com.
Also, the Real Estate Appraisers Association (REAA), a non-profit appraiser's organization with 4 chapters in California, has opened a separate bank account specifically for your donations. The bank will charge the account 2.5% plus $0.30 per donation transaction, which is the ONLY administrative cost that will not be forwarded to the family of Gordon Cowden according to Curtis Thor, President of REAA. According to Thor, the family will receive everything remaining after the bank takes their transaction fee. This account will stay open through October 24, 2012.
Donations can be made to the Cowden Family by visiting the REAA Website and clicking Donate on the Form on the right. Click here to make a donation.
REAA Contact:
VICKI KEELER
916-988-9442
reaaappraiser@earthlink.net
REAA's Mission: To promote the appraisal profession, and our membership, through education, networking and mentoring for professional development, with dedication to the highest ethical standards of appraisal practice.